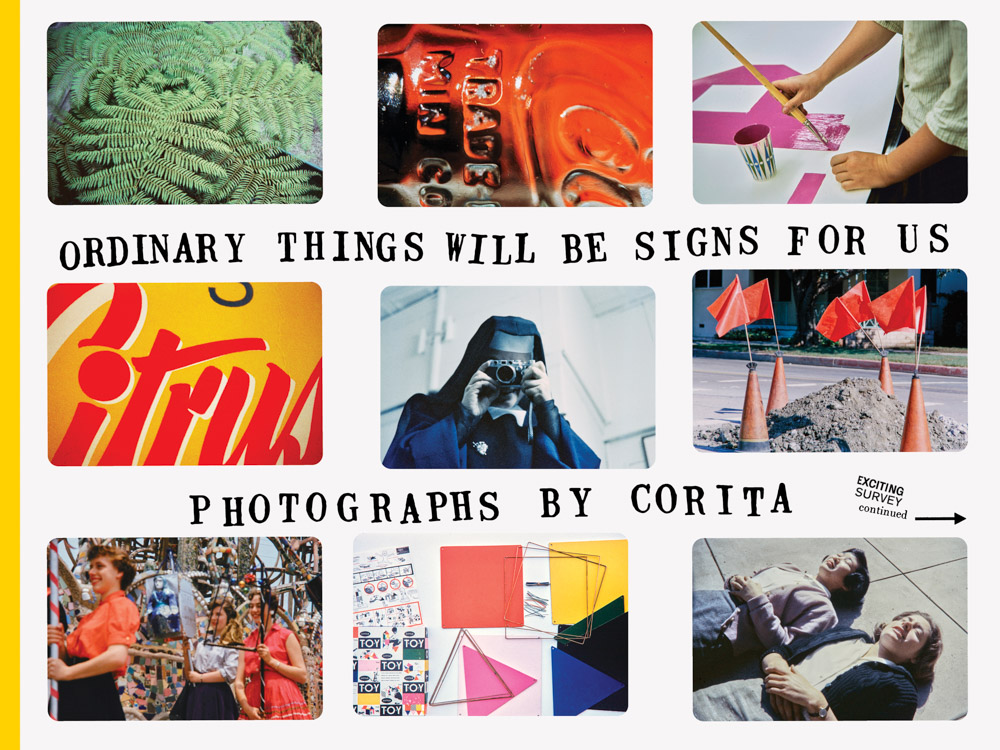 Corita Kent: Ordinary Things Will Be Signs For Us
Corita Kent's photographs of vernacular inspiration—from street signs and folk art to kites, parades and fairs
Corita Kent, formerly Sister Mary Corita, is known for her exuberant, colorful serigraphs and her teaching, as evidenced in her lively art classes. As a Catholic nun from 1936 until 1968, Corita lived and worked in the Immaculate Heart of Mary community in Los Angeles. She taught lettering and layout, image finding, and art structure for 20 years in Immaculate Heart College's art department. There, she screened multiple films simultaneously, hosted guest thinkers including Saul Bass, Buckminster Fuller and John Cage, and guided the making of large-scale collaborative projects with students.

Corita regularly took her students out for looking sessions at a used car lot or an art exhibition. While constantly looking and discovering visually, Corita shot thousands of 35 mm slides documenting references, the IHC milieu and the art department processes. For Corita, the vernacular environs of advertising, supermarkets and the city's media landscape were a source of inspiration and raw material. Her slide collection encompasses a wide range of subjects: cookies, coke bottles, toys, presents, experiments, projects, Mary's Day celebrations stemming from Corita's classroom, flowers, magazines, seeds, puppets, visits with Charles and Ray Eames, street signs, trade fairs, folk art, boxes, billboards and kites. Drawing from the Corita Art Center's vast slide collection, Ordinary Things Will Be Signs for Us embodies Corita's philosophy of looking.

Corita Kent (1918–86) was known for her iconic art, innovative teaching methods and messages of social justice. Born Frances Elizabeth Kent in Fort Dodge, Iowa, she entered the order of the Immaculate Heart of Mary in Hollywood at age 18. As a professor and later chair of the art department, she helped establish its reputation as a hub of creativity and liberal thinking. By 1968, her art was enormously popular, showing in more than 230 exhibitions and held in public and private collections around the world. She remained active in social causes until her death in 1986.